Symmetric Diffusers for LED Hiding and Seamless Applications
V-Series diffusers provide uniform illumination with optimized hiding and efficiency.

V-Series are available in two substrates Polypropylene (PP) and Polycarbonate (PC).

They are available in continuous, seamless rolls up to a 56-inch (1422 mm) width.

A BrightView applications engineer will be happy to help select the correct product for your application.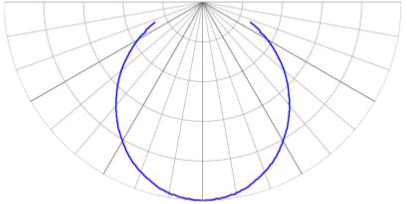 Semi-Rigid Thermoformable Grade
Product
Available Thickness
Typical angle in a 90º downlight1 (FWHM: full width half max)
Efficiency in typical LED luminaire

2

Features
V-H080-CV07
.007 in
0.18 mm
80º
88 - 95%
High Hiding
High Efficiency
V-H080-CV15
.015 in
0.38 mm
80º

88 - 95%
Highest Hiding
Semi-Rigid
V-H105-CV07
.007 in
0.18 mm
105º

87 - 94%
Higher Hiding
V-H105-CV15
.015 in
0.38 mm
105º

87 - 94%
Higher Hiding
Semi-Rigid
Form Factor
Available in continuous (seamless) rolls , sheets, or converted parts
Standard widths
Flexible Grade: 28, 56 inch
Thermoformable Grade: 24, 48 inch
Usage Notes
V-Series diffusers are symmetric; either side can face toward the light source
Care should be taken not to kink the diffuser as surface blemishes can appear
BrightView applications engineers can assist with product choices and help your design achieve peak performance
1 Angles are for reference only, and will vary greatly depending on luminaire design.
2 Efficiencies are typical and vary greatly depending on luminaire design.
Diffuser Materials Data
BrightView diffusers are available on a variety of materials, including film, semi-rigid, and rigid sheets to meet most lighting needs.
Applications Engineering
BrightView is an agile company with a commitment to rapid prototyping and fast turnaround on standard or custom parts. Application engineers are available to help select the right diffuser solution including optical performance, material choice, environmental requirements, and aesthetics.